Rhonda Lee-Morris
Why hire just one agent, when you can have a entire team!
The Bindner Team includes Rhonda Morris, Team Leader/Coach, Marcey West, Johnnie Floyd and Wendy Goude. The entire team loves what they do for a living and where they do it, and showing it all off to their wonderful clients.
In addition to residential real estate, Rhonda also specialize in commercial development, commercial leases and 1031 tax deferred exchanges.
Rhonda is a native of Michigan, although her roots are in Tennessee, North Carolina and Arkansas. She's the best at assisting in relocating to the Strand area, having moved her family, including her husband, two daughters, her mother and numerous pets over 10 years ago. Rhonda was raised in the manufacturing industry and managed several commercial properties over 20 years. She brings her experience of commercial property management, investment and sales to the team, as well her "Mom" expertise, which helps in her team leader position as well. When she's not working, she enjoys traveling, walking her dogs on the beach, cooking and spending time with her family.
Marcey West is a native of Georgetown, and knows absolutely everyone. She's very detailed oriented and is learning the real estate business fast. The team has Marcey's back, but she won't need us for long.
Wendy Goude is a Georgetown native, a huge animal lover and artist. If you're lucky she'll paint you a picture of the beach for a closing gift. Wendy's enthusiasm for real estate is contagious. You just need to talk to her for a minute to figure that out.
Johnnie Floyd is a born and bred beach girl, raising her two boys in Garden City with her husband Jeff. Johnnie will wear out the world to find her client the right property, or the right buyer for her seller. She's our hometown girl for Surfside, Garden City and Murrells Inlet.
The team was founded by Jim Bindner, who we, unfortunately lost all too early in 2019. Knowing Jim would like to see the team stay together under his name, Rhonda took over the management and coaching of the team, while Jim was still fighting what we all thought, hoped and prayed, was a short term illness. Although, his larger than life personality will be desperately missed, the real estate business continues to run smoothly and build under her guidance.
Awards & Designations
2018 Team with the Most Spirit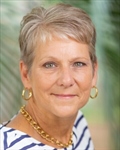 Rhonda Lee-Morris
Sales Executives
The Litchfield Company, Pawleys Island Office
14240 Ocean Highway 17